Workers' Compensation Process in California
When a Workplace Injury Forces You to Take Time Away from the Office
you're not just sitting at home collecting going destitute. California's worker's compensation laws are designed to allow you the freedom to heal in peace while your medical bills and loss of income are supplemented through financial benefits.
But, like most things worth having, worker's compensation benefits require a lengthy process that can get ugly if it is not followed to the letter. That's one of the many reasons why you should employ the services of an experienced California workers' compensation attorney like Donald S. Fair, Attorney At Law to represent you while seeking your financial rights. The presence of an attorney ensures that you are filing all paperwork correctly, and that your deadlines are being met.
Failure to do so could mean that your benefits will stop or be denied altogether.
There are three major steps on the road to receiving your workers' compensation benefits.
They are:
Reporting the injury to your employer.
Filing a workers' compensation claim with your employer.
Filing an Application for Adjudication of Claim with the Worker's Compensation Appeals Board.

How Does the California Workers' Compensation Process Start?
The first thing that you have to do in the event of a workplace injury or illness is report the incident to your employer.
The deadline for reporting an injury or illness varies based on the nature of the incident. If you were to fall down the stairs and hurt your back, there is a clear moment to point at and say, "this is when I was hurt."
That doesn't work when you're dealing with a cumulative trauma injury, caused by a strain or repetitive stress. Occupational diseases are also more difficult to pin down, such as a pulmonary infection or cancer brought about by the air quality in your workplace.
If you suffer an accident, report it to your employer immediately. Anyone requiring emergency medical treatment should seek that out first and explain to hospital staff that you were injured at work. Once you are safe, the incident should be reported to your employer right away. Give them written notice of the incident within 30 days or risk losing your right to benefits.
If the exact moment of injury or illness is not clear, the clock starts ticking at the time you first missed work or sought medical aid for the injury.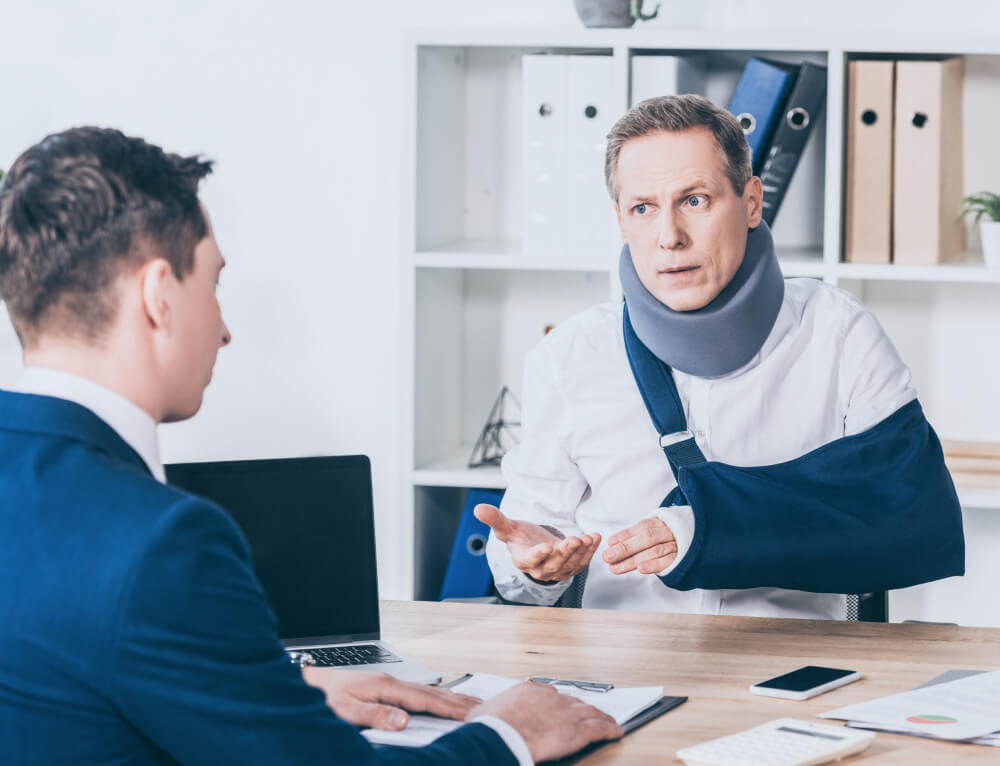 File Your California Workers' Compensation Claim
After your injury is reported, your employer has one day to issue you a workers' compensation claim form, which is also known as Form DWC-1. At that time, your employer should also provide you with information about your right to workers' compensation benefits and provide details as to the process.
If your employer has not done this within 24 hours of the incident report, you should consult a workers' compensation attorney. The form can also be found on the forms page of the California Workers' Compensation website.
Once you have filled out the form completely, return it to your employer and have them fill out the employer section. Once that is done, they have to turn the form into their insurance company and provide you with a copy. Make sure you don't throw this copy out.
Insurance Company Decision
Authorization of your benefits can only come from your employer's insurance company. They will do their own investigation into the matter and render a decision as to whether your injury or illness constitutes workers' compensation.
Up until a decision is made, the insurance company is responsible for covering up to $10,000 in medical bills for you. They have 90 days to deny a claim. If, after that time, no denial has been made, it is considered approved.
Temporary disability benefits should be received within 14 days after being reported to the insurance company. If two weeks have passed with no word from the insurance company and no money, it is time to lawyer up because the insurance company owes you a late fee of an additional 10%.
Dealing with Denial
If the insurance company rejects your claim, all is not lost. You can still fight back for your right to be compensated.
To resolve a dispute with your claim, you have to open a case with the Workers' Compensation Appeals Board. You can begin this process by filling out an Application for Adjudication of Claim. This must be done within one year of the date of injury, the last day your employer was providing medical benefits, or the last day of your temporary disability benefits.
Hire a California Workers' Compensation Attorney
A skilled and experienced California Workers' Compensation attorney is vital to fighting back against an insurance denial. California Workers' Compensation law is complicated and messy. You need an experienced hand at the wheel.
Donald S. Fair, Attorney At Law has been fighting for workers' compensation benefits since 1991. If you feel that your employer or insurance company is unfairly trying to impede your right to workers' compensation, call Donald S. Fair at 909-344-3003, or fill out the contact form to book a free consultation.